Two are better than one -- and a cord of three strands is not easily broken.





Twee zijn beter dan een -- en een drievoudig snoer wordt niet snel verbroken.

(Ecclesiastes / Prediker 4:9a,12b)


You are warmly invited to celebrate with us the marriage of
Kelly Elizabeth Jane Marshall
to
Pieter Izaak Johannes Passchier
on
Saturday, August 23, 2003
at
Granville Chapel, Vancouver
The church celebration will start at 1:00 pm, followed by an Afternoon Tea reception.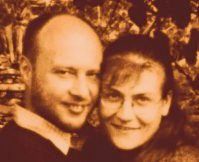 Please reply by July 31, 2003
email:
or phone: Malcolm&Silvia Marshall +1 604 266 9861
Granville Chapel
5901 Granville Street
Vancouver, BC
(on the SW corner of 43rd Avenue and Granville Street)
As we are currently training for overseas mission work and our future plans&needs are yet unknown, we do not want to accumulate many possessions. So, no gifts are expected -- your presence will be your gift to us!